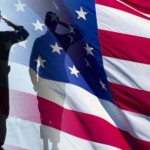 The Kansas Honor Flight is a newly added hub to the Honor Flight program and on Tuesday, July 31, it will be holding its very first flight.
According to Mike VanCampen, president of the Kansas Honor Flight, after going through about 45 applications, 28 veterans were selected, and with their guardians will be making the trip to Washington, D.C.
Four local veterans, John Roberts, Rix Shanline, Norbert "Doc" Stigge and Charles Niernberger, will be escorted through Manhattan by the Patriot Guard Riders next week and as part of the support system for these veterans, the community is welcome to line the street at the Fairfield Inn and wave the veterans on to Kansas City.
Tom Fryer with the Flint Hills Veterans Coalition said that the riders will be both in front and behind the veterans, but they also want the street lined on both sides by community members.
"Its from basically 4th street to 3rd street and we can be on both sides of the street at the Fairfield Inn parking lot," Fryer said.
Fryer encourages those who wish to attend this send off to be at the Fairfield Inn parking lot no later than 6:15 am next Tuesday.
The Honor Flight takes veterans to Washington, D.C. to view the memorials.