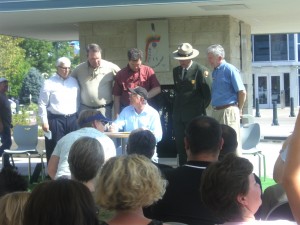 The Blue Earth Plaza, outside the Flint Hills Discovery Center, welcomed numerous special guests to take part in the official ceremony to designate the Kansas River Water Trail as the newest addition to the National Water Trails System on Saturday, July 14th.  Guests included:  Secretary of the Interior Ken Salazar, Governor Sam Brownback, Mayor Loren Pepperd, and Regional Director of the National Parks Service, Mike Reynolds.
Prior to the ceremony, Secretary Salazar and Governor Brownback canoed the Kansas River and performed a special reenactment of how Manhattan was founded at Fairmont Park.
Brownback spoke about the importance of the preservation of the Flint Hills prairie and the significance of the trails.  "Part of what I think our need and our position of what we need to do in the future is to provide more access points for people into the prairie", Brownback said.
Salazar added, "I can tell you that the Flint Hills of Kansas, the last of the remaining of the tall grass prairie, is one of the crown jewels of America."
Secretary Salazar presented Secretary of the Kansas Department of Wildlife, Parks and Tourism, Robin Jennison, with a plaque to commemorate this day and the new trail joining the National Water Trails System.  The ceremony concluded with the singing of "Home on the Range", performed by the Saint George Elementary Honor Choir.