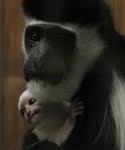 Sunset Zoo recently welcomed a new primate to the animal collection – a baby Colobus Monkey.  Blinkin, the animal's mother, and the new infant are doing well.  The new addition is roughly a week old and is now on exhibit to the public in the Primate Building located along the Zoo's African Forest Trail.  
 Unlike adult Colobus who are known for their highly contrastive coloring – glossy black fur with white hair around their face and a bushy white tail – the infants are born with completely white hair.  Over time the animal's hair will darken, achieving full adult coloration by three to four months.  Sunset Zoo's new addition is currently on exhibit with its mother and father, Mabon.  
Guests should look for the primate family primarily in the indoor public viewing area of the exhibit.   Zoo guests should be patient when looking for the infant – the baby will cling to its mother for roughly the first year and Blinkin is a bit protective of the new baby, often shielding the animal from public view. 
The infant will become more independent after about two months, beginning to eat vegetation, and then will be fully weaned after the first year.  Blinkin, a first-time mother, is doing an exceptional job caring for the new baby and is receiving great support from the more-experienced father, Mabon.  
Colobus Monkeys are native to Africa and typically live to 30 years of age.  Eating a diet primarily of leaves and fruits in the wild, the animals also enjoy sweet potatoes, peanuts and leaf eater biscuits at Sunset Zoo.  Additionally, these animals are diurnal – typically spending more than half their day resting.  However, when active, Colobus monkeys are great jumpers covering distances up to 50 feet when leaping in the trees!
The opportunity to name the new Colobus infant will be auctioned off at the third annual Brew at the Zoo event on Friday, August 17th.  The brew tasting event runs from 6:30-9:30pm at the Zoo's new Nature Exploration Center and around the primate exhibit loop.  For more information or to purchase tickets to the event, visit SunsetZoo.com.  .