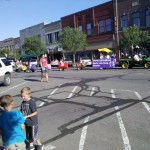 Though temperatures were triple digits, shade was a refuge for parade goers as the Riley County Fair Parade began at 6:00 pm on Thursday at the Manhattan Town Center and ended at City Park. 
Up and down the street, children could be seen being handed candy, as city ordinance prohibits the throwing of candy. 
Also, as this is an election year, candidates took advantage of the parade by presenting themselves to the public.
The parade has kicked off the Riley County Fair, which will be occupying the fairgrounds this weekend.
There is still a number of other events that can be attended.  For the full list, visit rileycountyfair.com.