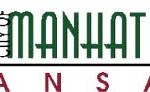 The pedestrian bridge that will connect the Discovery Center and the Historic Train Depot has hit a turning point as the on-ramp for motorists wishing to use K-177 to 1-70 is now open.
Motorists on K-18 traveling westbound and eastbound will be able to take the on-ramp to K-177 and travel south to i-70 to use the 313 exit interchange.
Baril Construction Company, the primary contractor for the pedestrian project, will continue to work on the sidewalk, landscaping and other miscellaneous items for the next few weeks.
Drivers are again urged to drive slowly, obey all posted traffic control signs, and use caution around the work zones.