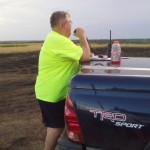 Thousands of dollars worth of damage were reported from a pasture fire Wednesday evening on West 69th Avenue, west of Manhattan near Keats.
The fire began about 6:30 in the evening when a hay baler caught fire for an unknown reason, while out in a field with a hay bale attached.  While one individual was treated by Riley County EMS on the scene, no one required hospitalization.
Riley County Fire Chief Pat Collins indicates 35-40 acres on the William Smith farm were involved in the fire, amounting to a thousand dollars worth of hay , a haybaler, and a power pole being destroyed. 200 Westar customers were without power for nearly five hours.
Collins tells KMAN his crews had the blaze under control in about two and a half hours. Eight fire trucks were on the scene, with 21 firefighters, as well as ambulance and law enforcement personnel.