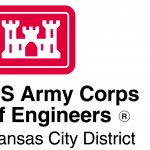 With requests from Kansas governmental officials Wednesday to halt releases of water from three of its reservoirs. the U-S Army Corps of Engineers has responded with actually increasing the water released overnight. Tuttle Creek Lake is one of the reservoirs affected, and Operations Project Manager Brian McNulty for Tuttle Creek Lake with the U-S Army Corps of Engineers indicates the lakes serve several congressionally authorized purposes.
The U-S Army Corps of engineers Thursday indicated in a news release that  releases from Milford, Tuttle Creek and Perry reservoirs in the Kansas River Basin have been providing supplemental navigation support to the Missouri River since July 8 and will continue to do so through approximately August 7.
Another purpose of reservoir releases deals with protection of threatened and endangered species along the Missouri River.
Senator Pat Roberts and Governor  Sam Brownback of Kansas had talked  Wednesday about a halt to releases due to the drought. But McNulty says the Corps is currently operating under congressional authorization, and Roberts is in a position to change that if need be.
The entire interview with Brian Mcnulty can be heard in our On Demand section.