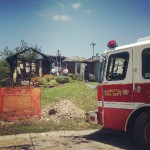 Two structure fires brought Manhattan firefighters out early Thursday morning. One was reported in the 3700 block of Katherine Circle which was under control after about an hour. However, KMAN's Tom Reust was on the scene early in the afternoon and reported the fire re-started. Fire crews were back on the scene, with flames rekindling in the roof area. Early damage estimates are $250,000 and there were no injuries.
Manhattan Deputy Fire Chief Ryan Almes indicates investigators are looking into the Katherine Circle  fire cause .  The house suffered damage to the front exterior and the entire roof structure of the house is gone.
Another fire was reported after that one in the 2500 blcok of Stagg Hill Road. Occupants were able to get out of the house and firefighteers remain on the scene. That fire apparently was caused by a candle.
While Almes does not yet have firm numbers, he says several fireworks related fires were reported, including dumpster and grass fires.