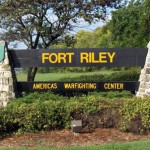 More than 300 1st Infantry Division Soldiers assigned to the 1st Sustainment Brigade will soon join fellow "Big Red One" Soldiers in eastern Afghanistan.
"Durable" leaders will case the brigade's colors Monday during a ceremony on Cavalry Parade Field. The event is a symbolic last step in preparation for deployment.
The Sustainment Brigade's mission in Afghanistan is to provide U.S. and Joint Task Force Coalition Forces with support services including: transportation, supply, signal, and other operations.
This is the brigade's third deployment since its activation at Fort Riley in 2007. This marks its first deployment to Afghanistan.
The ceremony is scheduled to start at 10 Monday morning.