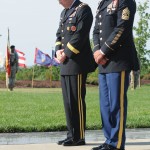 Two Fort Riley Soldiers have died serving their country as part of Operation Enduring Freedom in Paktika Province, Afghanistan.
U.S. Army Private First Class Jesus J. Lopez, 22, of San Bernardino, California and U.S. Army First Lieutenant Todd W. Lambka, 25, of Fraser, Michigan have died due to injuries sustained when an improvised explosive device detonated near their military vehicle.
Lopez and Lambka were assigned to D Company, 1st Battalion, 28th Infantry Regiment, 1st Infantry Division, Fort Riley.
Senator Jerry Moran made a statement for both men who passed on August 1st, thanking them for their service and sacrifice on the behalf of all Americans.
"My deepest sympathies go out to their families," said Moran.  "And I ask all Kansans to join me in keeping their family and friends in their thoughts and prayers during this difficult time."