According to Kansas Highway Patrol reports on Friday afternoon about 4 miles south of Herington on US 56 a fatal crash took the lives of two Junction City residents.
Police say a 2010 Nissan driven by 21-year-old Bryan Alfred of Junction City veered left of center and collided with 41-year-old Toby Biehler's 2010 Chevrolet Silverado.  Alfred's vehicle went into a ditch and overturned, Biehler's Silverado came to a rest in the roadway.
Killed in the accident were 20-year-old Amber Alfred, and 2-year-old Josiah Alfred.  Bryan Alfred and his passenger  6-year-old Keith Johnson of Junction City were  flown by Lifeteam to Saint Francis in Wichita.
Four people riding in Biehler's Silverado were also  injured and taken to Herington Hospital by emergency personnel.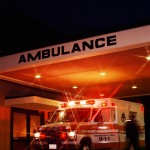 4