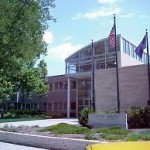 Tuesday night's Manhattan City Commission meeting brought forward two important items with the 2013 City Budget and the consideration of a sales tax renewal.
After giving a presentation of the proposed action posed by some of the commissioners to approve the 2013 Budget, City Finance Director Bernie Hayen says he does not agree with moving forward with it.
Geri Simon, Co-chair of the Save Our Social Services group, attended the meeting and agrees with Hayen. She says her group does not agree with the five percent cut to outside agencies, particularly social services.
Ben Champion of the Bicycle Advisory Committee spoke during the public comment portion of the meeting. He commented if the budget was going to be cut, it should be fair when it comes to infrastructure.   Champion indicated the proportion of money spent on biking infrastructure should reflect how many people in the community bike.
Manhattan resident John Ball states that the matter of the city budget simply comes down to priorities. He said while he likes bike trails, there comes a point when priorities have to be set. And he indicated support for the commissioners.
The matter did come to a vote and the 2013 City Budget was approved by a vote of 3-2.
The published city budget will show $120,049.142,  minus the C-I-P reserve fund, which amounts to a budget increase of 8.6 million dollars. It results in a  mill levy of 43.423, an increase of 1.267 over this year's.
Meanwhile, three options were presented to Manhattan City Commissioners concerning the proposed sales tax renewal.
The first option would keep the same 2002 sales tax plan current in place.
Assistant City Manager Lauren Palmer presented the three options  and she shares option number two, which involves 65 percent of the proceeds going toward traditional company incentives, with 35 percent for property tax relief and debt reduction.
Option number three would split three sales tax areas into thirds, the three being traditional company incentives and projects, property tax-relief and debt reduction, and community improvement projects.
Although no action was taken during the meeting, based on the discussion by the city commissioners a consensus seemed to be forming with option number two. The commission will be further looking into the language of the option before making a decision.