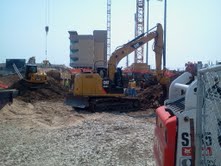 Local media got a chance to get a first-hand look at the construction site for the West Stadium Center Project at Bill Snyder Family Stadium Tuesday afternoon.
Kansas State Athletics Director John Currie along with Senior Associate Athletics Director for Operations and Event Management Casey Scott took the media members around the area where the new TV compound will be on the stadium's Northwest corner as well as the new Main concourse level. So far concrete has been poured for the concourse level south of the current Dev Nelson Press Box and work continues on both sides of the structure.
Currie told reporters that fans coming to K-State Football games can expect to start seeing steel rising out of the ground when they attend the KU game in early October. More steel should be visible when fans attend the Texas Tech and Oklahoma State games in late October and early November respectively.
Following the final game of the regular season against Texas on December 1 the Dev Nelson Press Box, which opened in 1993 will be demolished and the middle part of the facility will then be built.
The $75 million project is slated for completion by the start of the 2013 Football season.