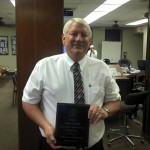 Several co-workers and family were in attendance at Monday's Riley County Commission meeting to honor Rod Meredith, Assistant County Public Works Director/Parks Director, who is retiring Friday.
As a token of appreciation, Meredith received a large plaque of appreciation for his 20-plus years of service. Assistant County Engineer Gary Rosewicz told the Commission and those present at Monday's meeting that it will be tough to replace him.
"Probably one of the highest compliments I could give him is that he is leaving things in much better shape than when he got here." Rosewicz says.
Meredith began working with the county in 1980 and has helped improve many roads, bridges, and parks in Riley County since. He says his retirement comes with some difficulty attached.
"This is probably the toughest thing I have ever done in my life and the biggest change I'll go through," Meredith says. "It has been nothing but a pleasure working for Riley County, I don't think there is a better county in the state for sure, and I think our peers know that too."
Meredith added that he plans to spend some time during his retirement in Colorado with his daughter.
A public reception for Meredith's retirement will be held Friday from 2pm-4pm at the Public Works Administration building at 6215 Tuttle Creek Boulevard.