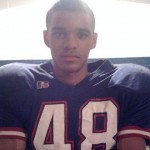 A motions hearing was held Thursday in Riley County District Court for Cole Drake, 16, of Manhattan, charged in the homicide case of Manhattan High School Student Tyler Dowling on April 13th, 2011  
Riley County District Court Judge David Stutzman first heard from a number of investigators and detectives.  Riley County Police Captain in charge of Investigations, Jeff Hooper, was the first to approach the stand.  Hooper was questioned about details involving the events after the homicide occured and the way Drake was questioned about it.
Hooper indicated the night after of the homicide, the body was found and the investigation began.  The police Captain added Drake appeared to have been the last person who saw Dowling, as they were both "car hopping" that evening.  The next day, Officer Brett Jager and Officer Ryan Runyan  reportedly arrived at Drake's home and asked him and his mother to join them for a car ride to see where they had been that day.  After the two hour car ride, Drake and his mother were brought back for further questioning. 
Officers asked Drake to take a lie detector test during this questioning, but Drake decided against it.  Police say during this questioning is when Drake confessed he was guilty of the shooting of Tyler Dowling.
Other individuals brought to the stand were, Detective Brett Jager, Detective Erin Friedline, Officer Jay Mills, Detective Michael Quintaner, Detective Ryan Runyan, and Cole Drake himself.  All individuals were asked similar questions about the same events.
Drake told the court he was 14 at the time of the incident and was still living with his mother and two brothers.  He stated the morning after the homicide, Officer Brett Jager and Officer Ryan Runyan came to his house to take him and his mother on a car ride.  The purpose of the car ride was to see where the homicide occurred and where Drake and Dowling had been "car hopping" prior to the incident.  Drake himself, was not involved in the decision to take the ride with the officers, but his mother made the decision for him.
Drake said after the two hour car ride, the officers took him and his mother back to the law enforcement center, where he was further questioned.  He indicated officers encouraged him to take a lie detector test.  He decided against the test, but agreed to questioning.  During the questioning, Drake admitted to the shooting of Tyler Dowling.
In closing remarks, Drake's defense attorney said Drake's Miranda Rights, that were read during the questioning, were "theory" because at the same time they were read, they were adding other information about "the power" he had to leave and/or stop questiong.  Drake's attorney said, "He was given his rights, but they weren't honored".  He also argued that Drake didn't have much sleep or much to eat that day. 
Judge Stutzman ended the hearing by saying he wanted to go through what was presented.