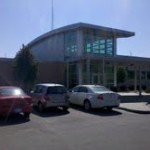 Riley County Police are investigating an aggravated robbery, reported in the parking lot of a local motel Sunday afternoon.
Jason Ickler, 29,  from Russell and Catlin Miller, 22,  from Claflin reported they were held at gunpoint by two males in the 500 block of Tuttle Creek Boulevard.
Items taken included a wallet, keys, i.d. cards, and cash, totaling  a loss of $930.
At this point, suspects are unknown and the investigation continues.  If anyone has any information contact CrimeStoppers at  539-7777.
—-
A man was arrested after it seems that he was trying to return stolen goods from a different location.
Ronald Schneid, 57, from Michigan, was arrested in the 2700 block of Anderson at 8:16 pm Sunday after it appeared that he shoplifted from the 325 Bluemont Ave Walgreens and tried to return to the Anderson location.
Schneid reportedly took about $1,500 worth of items.
Schneid's charges include felony theft of over $1,000, theft by deception, felony interference of an officer and possession of stolen property.  Bond was set at $4,000.
—-
An ongoing investigation continues for a Town Center Mall store.
Between May 1st and July 31st, it was reported that $3,770 was stolen from the GMC at 100 Town Center Mall.
It is suspected that the incident is from internal theft.
No arrests have been made.
—-
Four bikes were stolen on Saturday.
Matthew Cye (25), Videl Caballero (29) and Jonathan Griffith (24), all from 421 N. 16th, were the reported victims of the theft of four bikes that occurred between 9:45 am and 10:30 am on Saturday.
The total loss of all four bikes totaled $1,311.
—-
A number of criminal damage to property incidents occurred over the weekend.
Between 10:30 pm on Saturday and 11:00 am on Sunday, an unknown suspect damaged the paint on a 2000 Hyandai Tiburon.
The car belongs to Terry Francis (47), but Lindsay Francis (21) had possession of the car at the time of the crime.
Lindsay Francis parked the car in a parking lot at the 1100 block Bluemont Ave where the crime occurred.
The damage totaled $1,000.