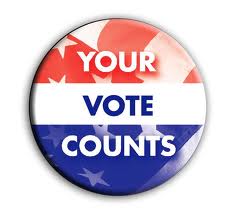 As we near the final day of voting in the August primary, a reminder several races will decide the party victors who will move on to the November general election.
Perhaps gaining the most attention is he 22nd Senate District seat, with republican candidates Joe Knopp, Bob Reader, and incumbent Roger Reitz, all of Manhattan.
The newly created 51st house district has primary contenders on both sides, including republicans  Ron Highland of Wamego, Dee McKee of rural Manhattan, and Keen Umbehr of Alma. On the democratic side, candidate Scott Briggs of Emporia had announced to KMAN he is no longer running for the position, but his name still appears on the ballot. Richard Pickul of Wamego is trying for the democratic slot with that 51st position.
Riley County commission positions contested in the primary include Bob Boyd, Jeff Holmes, and Larry Larson in the second district, with Dave Fiser and Ron Wells trying for the third district.
And of course a reminder the sixth district Kansas Board of education features democrats Usha Reddi of Manhattan and Carol Viar  of Salina.
Pottawatomie County has several contested races in this year's primary, both at the county and state level and all on the Republican side of things.
Pottawatomie county commission's position two includes Republicans Pat Weixelman and Jacob Pugh, both of Wamego. Trying for County Attorney are Sherri Schuck and Joe Randtke. For county treasurer are republican candidates Lisa Wright and David Mize.
The 51st district is prevalent in Pottawatomie county with 52 percent of the district in that county.  
The 61st district features republican candidates Daniel Brenner of Holton, Richard Calrson of St. Mary's, and Trent Ledoux of Holton.
Three different Senate districts of interest include position number one, as well as positions 17 and 18.
Republicans Marje Cochran of Whiting and Dennis Pyle of Hiawatha are trying for position one. Position 17 contenders include James Fawcett of Junction City and Jeff Longbine of Emporia. District 18's race features Dick Barta, Cristina Fischer, and Gary Parnell, all of Topeka.