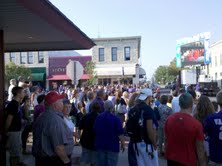 Purple filled Poyntz Ave Thursday night as the first night of Purple Power Play of Poyntz took place.
The was the 24th year for this fun festivity that would kick off the football season at Kansas State University.
Among the events, there were booths, jump houses, along with the K-State Band, cheerleaders and Classy Cats along with Coach Bill Snyder who made a speech thanking the band, the community and all the support that has come to the football program here in Manhattan.
Had it not been for the support, Snyder said the football program is not what it would be today.
Among the vendors, there were the traditional treats, corn dogs, funnel cakes along with bbq and other food options.  The reptile exhibit was out with a couple of living entertainers as a snake wondered around, wrapped on the arm of a volunteer.
The Manhattan Public Library was also out kicking off their campaign for the "Building for Young Minds".  This is a cause to raise money to help expand the children's area of the library. 
Friday night is a continuation of another night before Saturday's game and it will conclude with a firework show.