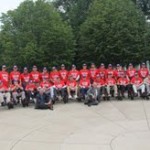 WASHINGTON, D.C. – U.S. Senator Jerry Moran (R-Kan.) greeted Kansas World War II veterans during their recent trip to Washington, D.C. Veterans from Manhattan and across Kansas traveled to the nation's capital on Wednesday, August 1, to visit the WWII Memorial which was built in their honor and completed in 2004.
"The WWII memorial serves as an important reminder to all citizens to never forget what the previous generations sacrificed so that we can live with freedom and liberty today," Sen. Moran said. "It was an honor for me to spend time with some of our nation's true heroes – whose contributions to our country can never be fully measured."
The opportunity to travel to the nation's capital was made possible by local volunteers and donors acting through Honor Flight, a grassroots, non-profit organization.
During the one day trip, the veterans also visited Arlington National Cemetery and Vietnam Veterans Memorial Wall. The World War II Memorial honors the 16 million who served in the armed forces of the U.S., the more than 400,000 who died, and all who supported the war effort from home. The memorial is a monument to the spirit, sacrifice, and commitment of the American people.