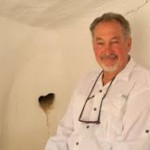 After serving the Manhattan area community for more than 10 years, Roy Crenshaw will step down as Executive Director of Big Brothers Big Sisters on September 7th. Crenshaw said the organization has reached the goals he set when he accepted the position and he now looks forward to enjoying his time in retirement.
A member of the Manhattan community for most of his life, Crenshaw accepted the executive director position in 2002 after returning from living and working in Israel. Crenshaw says he was looking for a challenging position that also allowed him to serve his community.
Crenshaw adds One of his goals at the time was to become the longest serving executive director in the region's history and he was able to do that. And now he says staff tenure is averaging almost 8 years.
Crenshaw noted  the longevity and stability allowed the agency to focus on specific, long-term goals and provide much needed services to Riley, Wabaunsee, Pottawatomie, Washington and Geary counties.
Crenshaw plans to jump into retirement by spending a month traveling India. When he returns, he will focus on the many projects associated with his ranch, Shamrock Farms, near Manhattan, including his vineyard and Angus cattle herd.