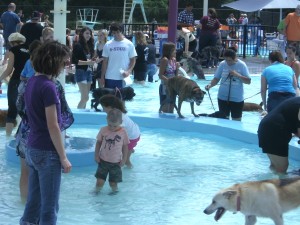 Canines had the chance to take a dip and cool off in the Cico Park Pool on Sunday  from 1 p.m.-4 p.m. at Petpoolooza.  The day featured a number of activities and giveaways for dogs and their owners.
Petco was one of the vendors present at the event.  Their booth featured various coupons, guessing games and giveaways.  They also spent the day educating pet owners on the importance of pet adoption.  Gina Grizbee, Companion Animal Specialist and Dog Training Mentor at PetCo, says "we need a lot of help in our shelters, we need to get dogs out of shelters and keep them out of shelters."  Grizbee says getting your dogs trained will not only create a bond between you and your pet, but will also make you more happy with your pet.  Many dogs brought in to animal shelters are due to lack of obedience.
Other vendors present at the event included Wildcat Pet Resort and Jitterbug Grooming.  The amazing weather provided a tremendous turnout.
There was no fee to enter the pool, but there was a suggested donation of two dollars per dog.  The money raised will help benefit the T. Russell Reitz Animal Shelter.