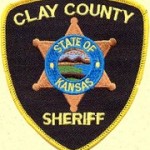 The Clay County sheriff's office is reporting two drug-related arrests Thursday.
Taken into custody were Randy Sutton, 34,  and Danny Gingles, 29,  both of Clay Center. Sutton's bond was set at $25,000 and charges include distribution of methamphetamine within 1,000 feet of school property and possession charges involving meth, marijuana, and drug paraphernalia.
Gingles bond is $1500 and charges include possession of meth, paraphernalia, and a warrant out of Wabaunsee county for faliure to appear.
The arrests followed a search in the 1000 block of Lane Street in Clay Center, which was conducted by the Clay County Sheriff's office and the clay Center Police department.