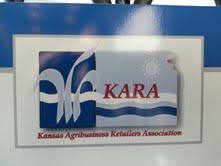 The 2012 Kansas Agribusiness Retailers Association annual meeting was held Tuesday morning at the Hilton Garden Inn in Manhattan.
U.S. Senator Jerry Moran was the featured speaker for the morning.  Moran spoke about his vision and role in agricultural policy in Washington.  Besides national issues, he also addressed local issues such as the farm bill and the drought Kansas has experienced this summer.  Moran says, "Kansas is strongly dependent upon a viable agricultural economy."
Also on the agenda was Executive Vice President of Food and Agriculture for the Biotechnology Industry Organization, Cathleen Enright, who spoke about the latest technology and policy issues in crop protection.
Besides speeches, meetings and discussions, the event also featured a few fun activities including a bowling night prior to the Tuesday morning presentations, and a golf tournament Tuesday afternoon.