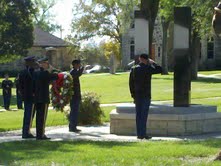 Eleven years after the attacks on the World Trade Center, the Pentagon and the plane that went down to save a number of other lives, Fort Riley had a commemoration ceremony to again honor those who sacrificed their lives.
During the ceremony, Fort Riley Senior Commander Brig. Gen. Don MacWillie spoke to those in attendance saying that "the work in nearly done in Afghanistan" and thanking those who work to keep this country safe.
The Global War on Terrorism Monument in front of the U.S. Cavalry Museum stood in the background as MacWillie spoke and this year 16 names will be added to the monuement is way of remembering those who have died serving their country.
Those who will be added are Specialist Chazray C. Clark, Sergeant Jakob J. Roelli, Specialist Robert E. Dyas, Jr. , Specialist Garrett A. Fant, First Lieutenant Dustin D. Vincent, Private First Class Cody R. Norris, Sergeant First Class Dennis R. Murray, Sergeant Ryan D. Sharp, Staff Sergeant Jesse J. Grindey, Staff Sergeant Jamie D. Jarboe, Captain Michael C. Braden, Staff Sergeant Zachary H. Hargrove, Specialist Cody O. Moosman, Sergeant Erik N. May, First Lieutenant Todd W. Lambka and Private First Class Jesus J. Lopez.
Below is the entirety of Fort Riley Senior Commander Brig. Gen. Don MacWillie's remarks at the ceremony.