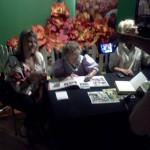 The city of Wamego held it's eighth annual Oztoberfest event on Saturday, and there were witches, munchkins, and of course…lots of Dorothys everywhere. The Wizard of Oz museum is located in Wamego, and it is at the heart of the festival. Wamego Chamber of Commerce Executive Director Mary Lynn Barnett explained that since the city had the museum, why not have a festival to go with it? She states that "Over thirty thousand people come to the museum every year, so why not have a festival around that idea"?
In recent years, at least a few of the munchkins from the movie have attended the event to meet and greet fans. Barnett says that "traditionally, the festival was a way to meet the munchkins from the movie; but unfortunately, most of them are not around anymore".  Fortunately though, Margarett Pellegrini, one of the last remaining munchkins, was able to attend the event, and was happy to meet fans. She was kept busy signing autographs, posing for pictures, and talking to the many fans that came out to see her. "it's such a wonderful event", says Miss Pellegrini, "the people are so nice here in Wamego. I love to come here".
Miss Pellegrini was not the only thing to see at the event. There was a kind of air of a street festival as things such a petting zoo and inflatables for the kids, as well as various vendors selling Oz related merchandise and other kinds of merchandise alongside of it. You could have your picture taken with Glenda the good witch or the Wicked Witch of the West, or if you so chose, you could put your head in a cutout of the Tin Man, Dorothy, Toto, the Scarecrow, or the Cowardly Lion.
There were children all around dressed as Dorothy, with one young lady, five year old Kylie Rice saying that her favorite part of the movie was "the puppy", meaning Toto of course.  And she was not alone as many children were happy to take part of the petting zoo and inflatables, as well as to have their picture taken with various characters from the movie. The kids were not the only ones having fun, there were fans of all ages attending the event and enjoying all things Oz.