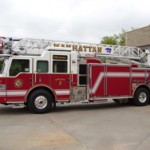 A July residential house fire that occurred at 531 Bertrand Street in  Manhattan  has been ruled an incendiary fire by investigators. A news release issued Tuesday morning by Deputy Fire Chief Ryan Almes indicates the result of witness interviews has allowed investigators to determine the July first fire was intentionally set.
The fire caused approximately $50,000 damage to the structure and $40,000 to contents. The owner of the residence, Cadell Bynum, was not at home at the time of the fire.
Riley County Police Department Investigators, in cooperation with Fire investigators from the Manhattan Fire Department, are currently working on the investigation.