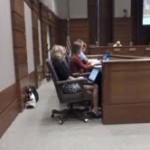 While we all too frequently hear about crimes that result in injuries or loss of some sort, it's nice to have a good news story to report–and Riley County Police Director Brad Schoen did just that Monday with life saving awards presented at the monthly law board meeting. Dispatcher Dawn Wickizer and Officer Mark Cusimano were presented with the awards. 
Wickizer not only notified other emergency agencies, but proceeded to instruct the mother how to perform CPR, with Officer Cusimano showing up within a minute and continuing the CPR. MFD and EMS crews arrived a short time later to proceed until the child was breathing again. Schoen attributes the happy ending to the new consolidated dispatching, and ability of dispatchers to provide critical life saving assistance.  
Also Monday Scott Hagemeister was promoted to sergeant and Lt. Josh Kyle was presented with a meritorious award for work he's done with a new police training program.
Law Board members also approved a purchase card agreement, and  general orders regarding discipline and promotions