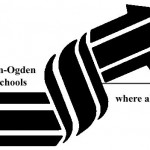 A few items were up for discussion and action at the Manhattan Ogden School board meeting Wednesday.
The first item consisted of the Bishop Stadium artificial turf project.  After discussion and questioning from the board to the Manhattan High school booster club president and vice president, there was a vote for the first reading and the motion passed.  This allowed for the proposal for fundraising and funding of the project.
The next item consisted of another discussion of the Manhattan High school advisory time.  Principal Terry McCarty came back with details requested by the board at a previous meeting and the board unanimously voted in favor of the plan.
The third item consisted of the public hearing for the school start times.  During the hearing about 16 people spoke about their concerns.  There were opinions on both sides of the topic with some concern for elementary starting earlier and others backing for the high school to start later.  There was no action taken on this item at this point.
At the next school board meeting, the board will have the public hearing for the open and closed lunch issue.