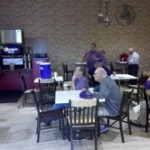 The half-cent sales tax has been taking a tour of the Manhattan community as Riley County representatives and Manhattan city officials have been providing educational presentations.
Riley County Commissioner Dave Lewis and Manhattan Mayor Loren Peppard gave their presentation on Saturday at the RockHouse Café next to Ray's Apple Market.
During the presentation, Lewis talked about the breakdown of the half-cent sales tax within a $20 million dollar prioritized distribution.  In the Manhattan urban area, $9.3 million dollars would be distributed and then the remaining $10.7 million would be in the rural Riley County.
Peppard explained the definition of economic development which would be where the city's part of the sales tax would be funded into.  One third of the money would be used for property tax relief and then the remaining two-thirds would be for traditional company incentives and infrastructure.  This two-thirds portion would be voted on by the city commission.
There are still more opportunities for community members to get out for a presentation as there are still about 20 more meetings scheduled at this point.
But three different versions of the presentation are available online at the city website, cityofmhk.com, and the county website, rileycountyks.gov, for anyone interested in reviewing them.