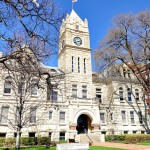 A high profile murder case is finally resolved after an official plea agreement was sent out at 12:30 p.m. Thursday.
At 5:45 p.m. Wednesday evening,  Cole Drake (16), through his attorneys- Larry McRell and Brenda Jordan signed a plea agreement along with Riley County Attorney Barry Wilkerson and Assistant Riley County Attorney Wes Garrison.  Drake is now officially charged with Intentional Second Degree Murder, one count of Aggravated Robbery, five counts of Vehicular Burglary on April 12, 2011 and one count of Vehicular Burglary on December 24, 2010.  All of this was filed as amended information by the Riley County Attorney's Office.
Drake pled no contest to all the charges in the amended information and has been charged with the homicide of Manhattan High School classmate, Tyler Dowling,  in April of last year.
Dowling's family members were present, as were the parents of Cole Drake when the court accepted his plea of no contest to all charges and found him guilty.  As previously authorized, Drake will be charged as an adult.  The plea concluded at 6:30 p.m. and Drake's sentencing is scheduled for October 29th, 2012.  He could face up to 21 years in prison.