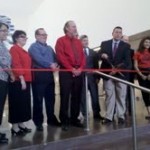 Outside of the Manhattan High West campus, the band stood to perform as people filtered into the building for the ribbon cutting ceremony on Thursday, after two years of construction.
Up the stairs, tables were set, goodies from the culinary arts students were served and doors were opened so people could wander around, exploring the changes that have occurred.  Student council members were also available to give directions and tours to those who found themselves a little lost.
In the commons area, the choir gave performances until the time for the dedication ceremony.
At 5:30 pm, the ceremony began in the North Gym and people filed into the bleachers to hear a number of people who expressed gratitude to the work that was done on all parts.  First up was Terry McCarty, principal at the high school, followed by Dr. Bob Shannon, Manhattan Ogden superintendent, Dave Colburn, Manhattan Ogden school board president, Dean Youngers, project manager, and Adolfson & Peterson Construction representatives.
Each person expressed thanks to the others and to the work that each put into not only the project itself, but to getting the bond issue passed by the community and the board.
Youngers left the group with a final thought.
"If the walls could talk, let's give them a great story to tell."