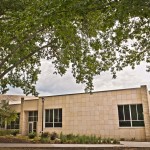 Justin Hall on the K-State campus has received some needed additions as far as classrooms go. The 52 year old building previously had structures inside classrooms that made it difficult for student-teacher interaction. The new addition includes 16, 000 square feet structure and houses two new classrooms.
Virginia Moxley, Dean of the College of Human Ecology, says the two new classrooms put in are electronic-friendly.
"Each (classroom) has outlets where students can plug-in their computers," Moxley says. "We also have Airport so students can have wireless access throughout the classroom."
A special dedication will be held on Friday at 2pm with a ribbon-cutting and recognition of the private donors that made it all possible. Classes have already begun to be taught this fall inside the new classrooms in the addition.