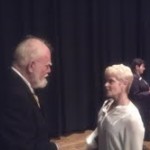 On Wednesday, Dr. David Dary,  former educator, author, and broadcast journalist, came back to Manhattan to speak to his alma mater at the student union. Dary graduated from K-State in 1956 and has taught at universities such as the University of Kansas and Oklahoma University.  Dary spoke  reguarding the types of media we see today, and stressed the importance of quality in a time where there are so many different outlets.
Discussion later shifted to the recent National Conventions and the changes pertaining to those televised events. He stated the excitement is gone now because people used to watch the conventions in order to find out who the candidates were going to be. Now all of the information is preconceived, almost making the conventions to be staged events or programs.
Dary also spoke about the changes in technology and communication that are present in today's journalism. He stated with all of the rapidly changing technological advances, the period we live in today may be just as important to history as the industrial revolution.