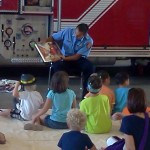 September 11th of each year has come to be a time of rememberance for many Americans. We come together on this date every year to remember those we consider heroes. Those men and women who put their lives on the line for us on a daily basis, and who deserve our recognition and praise. Wheather it be a firefigher containing a blaze, a policeman keeping the peace, an emergency medical technician saving a life or a soldier fighting for our freedom, they all deserve the title of hero.
It was with this in mind that the School of Hope organization, working with RSVP of the Flint hills, The United Way, and USD 383 organized and presented "Reading with Heroes", which had local heroes reading stories to area children as well as giving those children and their families a small glance at what they do on a daily basis. Candice McIntosh, program director for Schools of Hope says that they "wanted to bring together the kids of the community, by thanking our local heroes'.
Before storytime commenced, the children had a chance to interact with local fire men and women, emergency medical personel, and  a policewoman. They were able to explore the different rescue vehicles, as well as ask questions of their heroes to try and really get to know what they do. Alex Protzman, an EMT with Riley County EMS explains why he is excited to take part in this event. He states that "this just gives us a great chance to give back to the communityand to get in touch with the children. We see them on scenes and on calls, but we do not get the opportunity to visit them and to see them in kind of a laid back, non emergency environment".
After the children had a chance to explore the vehicles and ask questions, storytime started. Each hero took time to read to the kids. McIntosh explains that "each local hero had a chance to pick out their own favorite kids story that has to relate to their job". So each child had a chance to not only hear one story, but many.
Popcorn was also provided for all of those in attendance, and while being served, each visitor had a chance to sign their name to four different posters. Each one thanking a different category of hero. There was one each for the firemen, emergency medical technicians, soldiers, and policemen. After the event, each poster was to be given to their respective organization as a thank you for their services.
McIntosh says that while this is the first year for this event, she does hope that it will become an annual tradition.