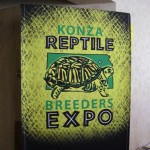 The Fifth Annual Konza Reptile Breeders Expo had a full crowd at the Clarion Hotel on Sunday from 10 a.m.-6 p.m.  A wide variety of reptiles were not only on display, but also up for sale.  Geckos, lizards, frogs, turtles, and scorpions were some of the various pets available for purchase.
The goal for the event was to widen the potential market of the Midwest region for vendors to buy, sell and trade product.  The expo provides a chance for pet owners to gain information and specialty products from local stores.
Mike Bonella, owner of Sunflower Pet Supplies, was at the event to provide pet owners with the proper tools, food, and lighting for their reptiles.  When asked how important it is to have the proper supplies to take care of a reptile, he replied by saying "we consider pets to be part of the family, and so that's like asking me how important it is to feed a child and give them what they need to be healthy".
Sunflower Pet Supplies, Manhattan Aquarium, Manhattan Reptile World, and Syndicate Tatoo were a few of the many vendors at the expo.