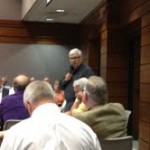 On Thursday the Joint Cities/ Counties meeting was held at Manhattan City Hall with the Metropolitan Planning Organization one topic of discussion. Due to federal government mandates, the City of Manhattan has to build a Metropolitan Planning Organization to plan for future transportation planning, or physical infrastructure needs . Ultimately it is up to the city commission to decide how the organization will be set up.  Manhattan Mayor Loren Pepperd discussed how he thinks it should be handled. He ultimately believes the voting should be left to the  MPO instead of giving the responsibility to the Regional Council.
Ty Warner, Executive Director for the Flint Hills Regional Council, discussed how the Metropolitan Planning Organization's responsibilities, saying the federal government's mandate gives a pre-determined amount of money to local governments for transportation planning and lets those governments decide on what projects they will be spending the money on. This will give almost all control to the local governments in the area.Warner also discussed how the MPO came to be, stating that the March 2010 census put Manhattan over the 50,000 person mark requiring Manhattan to create the MPO.
The critical decision for Manhattan City Commission is where the boundaries will be for the MPO. The commission will be voting on Tuesday October second over the issue.