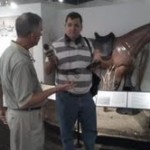 A new exhibit featuring the history of the local area has opened at the Flint Hills Discovery Center. Forces: The Shaping of Manhattan, Fort Riley, and Kansas State University showcases the three entities that make this area so special. Visitors to this temporary exhibit can step through time back to the mid 1800s and see how a small frontier fort and a small group of settlers made this area what it is today. There is something for everyone at this exhibit. From vintage cars. to historical landmarks, to classical textiles, this exhibit has it all.
This exhibit took a lot of work, and in particular, six different organizations worked hard to bring it to life. The Kansas Humanities council, along with the Conservation division of Fort Riley, the U.S. Cavalry museum of Fort Riley, the Riley County Historical Museum, the Historical Costume and Textile Museum of Kansas State University, and the Morse Department of Special Collections of Kansas State University worked hand in hand to put on a display that will give visitors a chance to really see where our roots are in the area.
Cheryl Collins, director of the Riley County Historical Museum says that "The Flint Hills Discovery Center hopes to educate visitors about this small corner of the Flint Hills that so many of us call home. I hope that visitors will learn a little about how the military post, university, and the city were developed". So many of us live and work in this area, and most of us know at least as little about the city, the post, or the school that we may take for granted, but how many of us really know the history of those three places or the role that each played in the building of this area?
The exhibit also sresses the collaborative effort that each of these three entities has played. Flint Hills Discovery Center Director Bob Workman notes "One important aspect of our purpose is to facilitate important collaborations and partnershuips. This exhibit is the first of many that will highlight rich local and regional resources".
If you are interested in seeing this exciting new exhibit, The Flint Hills Discovery Center is open from 10 a.m. to 5 p.m. and the exhibit is included with the normal price of admission. Numerous free events will take place in partnership with the exhibit, with the Flint Hills Discovery Center holding it's inaugural free family day event on Saturday, September 22.
Forces: The Shaping of Manhattan, Fort Riley, and Kansas State University will be on display until January 13, 2013