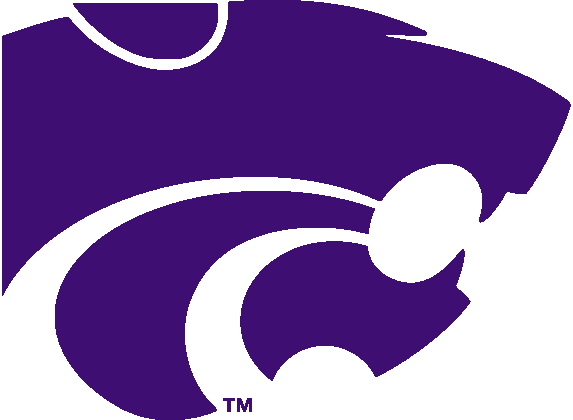 NORMAN, Okla. (AP) — For John Hubert and No. 15 Kansas State, there is no sweeter payback than avenging a dream-crushing loss at the hands of No. 6 Oklahoma.
Hubert ran for 130 yards and a touchdown, Jarell Childs scooped up a fumble and returned it for a score and the Wildcats beat the Sooners 24-19 on Saturday night to avenge a wrenching loss from last season.
From the lows of absorbing a 41-point blowout loss on their home field that snuffed out their hopes for an undefeated season to the joys of celebrating on Oklahoma's hallowed home field, the boys from the Little Apple came up big.
"We had a chip on our shoulder. They came to my house and they kind of embarrassed us. We just wanted to come out and stay on them and keep pounding them, keep pounding them, keep pounding them until the best team won," Hubert said.
Collin Klein picked up 228 yards of total offense and ran for the go-ahead touchdown early in the fourth quarter in a solid performance that outshined and error-filled night by Sooners quarterbackLandry Jones.
Jones threw for 298 yards and a late touchdown to get Oklahoma (2-1, 0-1 Big 12) within five but also fumbled and threw an interception that put Kansas State (4-0, 1-0) in position to go ahead.
Jones had returned to Oklahoma instead of entering the NFL draft in part for one last shot at a national championship. That could be in jeopardy already.
"Landry's awesome. He a great quarterback," Klein said. "He made a lot of great throws. It's just sometimes they're going to get you, and we were able to be on the right end of that."
K-State coach Bill Snyder, the mentor to Sooners counterpart Bob Stoops, scored another marquee win against his former pupil. His only other win head-to-head had come in the 2003 Big 12 championship game, with the Wildcats losing in the other eight meetings.
None were more painful than when both teams were in the top 15 last October.
"He was very excited. He really didn't have too much words to say," Hubert said. "That's when you can tell when coach Snyder is excited, when he comes into the locker room and he's kind of speechless.
"We're just happy that we could come out and get a big win at OU and show the world and show the fans that we're capable of doing big things."
A handful of critical mistakes by the Sooners' quarterbacks did them in.
Jones' first big gaffe came as he rolled to his right near his own goal line and was hit by Justin Tuggle, with the ball squirting free. Childs picked it up and scored to give K-State an early 7-3 lead and a big shot of momentum.
Oklahoma was within a yard of pulling even when Blake Bell, Jones' backup who runs a power set called the "Belldozer," fumbled away a snap to snuff out a promising drive.
"It's just bad football when you turn the football over, give (up) a touchdown when you're inside the 1-yard line on second down and you lose the football," Stoops said. "It's just bad football.
"You give up three turnovers and don't get one, you're going to lose against a good football team. That's how it went."
Jones, who had claimed his main offseason improvement was his footwork under pressure, badly underthrew Brennan Clay with the pass rush closing in to close Oklahoma's next drive.
Hubert then provided some breathing room with a 9-yard TD run through traffic up the middle.
Jones responded by leading a 65-yard scoring drive, finished off by a 10-yard TD pass to Sterling Shepard with 4:09 left. He didn't get a chance to go for the win, with Kansas State running out the rest of the clock.
"I played pretty terrible. The majority of this game is in my hands," said Jones, who set a school record with 505 yards passing in the 58-17 win last year against K-State.
"I didn't take care of the ball or make enough plays. This one is probably on me."
Midway through last season, the Sooners had gone 20 straight games without even trailing at home, but now five of the last seven opponents have led – with two coming out victorious. Unranked Texas Tech snapped Oklahoma's 39-game winning streak on Owen Field last October.
The Sooners are now 78-4 at home under Stoops.
"We knew it was going to be a battle," Klein said. "Obviously, it was exactly that. Credit all facets for hanging together through when things were going well and when things weren't going so well and just being able to execute when we had to execute."
Jones averted disaster with another bad decision in the third quarter, when he flipped the ball toward Roy Finch on a shuffle pass even though Finch was already a couple steps past him. Jones scurried toward the loose ball and tried in vain to recover what was initially ruled a fumble, but the Sooners got it back after a review showed it was in fact an ill-advised pass instead of a botched handoff.
Given a second chance, Jones completed his next six passes on the drive and put Oklahoma in position for Bell's 3-yard touchdown run to make it 13-10 with 5 minutes left in the third quarter.
Another Jones mistake gave the Wildcats a chance to reclaim the lead, though.
After faking a handoff, Jones overshot Kenny Stills and K-State's Ty Zimmerman zoomed in to intercept the errant throw and give the Wildcats the ball at the Oklahoma 38. Klein cashed it in seven plays later, going 5 yards on a quarterback keeper to put Kansas State up to stay at 17-13.