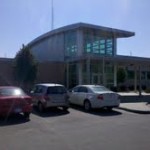 A rape in the Northwest part of Manhattan resulted in a recent arrest.
William Yankey (28) of Manhattan was arrested around 5:30 p.m. Tuesday for rape and his bond is set at $50,000.
The rape reportedly occurred December 8th, 2007.  The victim allegedly was a 26 year old woman.
————-
Saving an animal's life put a Manhattan woman's own life in danger.  
Shortly before 5:30. Tuesday evening, a one vehicle accident occurred on Fort Riley Boulevard and Stagg Hill Road.
Ignacia Dominquez (20) was driving her 2003 Chevy Trailblazer westbound when she swerved to miss an animal in the road.  The vehicle rolled off to the North side of the road.
Also in the car was Dominquez's one year old son, Garbriel Casilas.
Both were transported to Mercy Regional Health for minor injuries, and were treated and released.