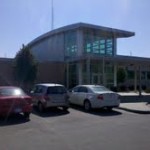 A Fort Riley soldier has reported that several items have been stolen from his vehicle.
Riley County Police responded to call on Sunday morning regarding a vehicle burglary. The victim, 22 year old Fort Riley Soldier Nathanial Taylor, who is living in Manhattan,  told police, that stolen from his vehicle was a plastic box valued at $30, various hand tools worth $700, and a CB radio valued at $70. Also taken from in front his garage door was a Barbeque smoker worth $250.
The smoker reportedly belonged to a second victim, 28 year old Kindra Mendoza, also a Fort Riley Soldier living at the same address.
Total loss is $1,050 and police are continuing to investigate.
——————————————————————————
Riley County Police responded to a report that an alarm was going off at Kellstrom pharmacy at approximately 10:05  Saturday night.
Manager John Kellstrom reported to police that a window was broken in the burglary, and that $2,400 worth of merchandise was stolen.
The investigation is currently ongoing.
——————————————————————————
A failure to appear warrant leads to an arrest in Manhattan.
Riley County police told reporters Monday that this past Friday afternoon  shortly before 3:30 they arrested Monica Morales on one charge of failure to appear. The original charge against Morales was forgery. Bond has been set at $15,000.