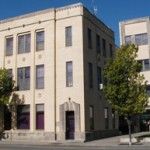 Although construction on K-18 has been going on all summer long, the project is nowhere near done.
Kansas Department of Transportation Construction Manager, Jerry Haug came before Riley County Commissioners at their Monday meeting to discuss the changes being made.  Repaving, adjusting ramps and expanding the road are some of the many construction projects that will take place.  By mid-October Haug hopes to have the new Scenic Drive intersection up and functioning.  Haug said, "Right now, if you go  south on Scenic, all you can do is take a right turn.  This will allow people to take a right or a left movement".  Haug also shared a map of the purposed new K-18 road.  The project is expected to be completed by fall of 2013.
During the press conference portion of the meeting, commissioners had the opportunity to hear about upcoming events and updates on existing items.
County Appraiser, Greg McHenry brought forward the updated watercraft ballot question that will be included in November's general election.  The question regards the taxation of watercraft in Kansas.  Currently, all watercrafts are taxed as personal property.  This question asks voters to choose whether or not to allow the Kansas Legislature the option to change this.  Back in 2000, a similar question was placed on the ballot during the general election and was defeated by voters statewide.
Senn Road will be closed starting Tuesday for culvert installation.  Assistant County Engineer, Gary Rosewicz told commissioners if the weather cooperates, they should have the installation done in a few days.  Rosewicz also mentioned the Riley County Surplus Auction taking place Saturday at the public works building.
Other presentations at the meeting included:  County Counselor, Clancy Holeman with an administrative work session, Riley County Extension Horticulture Agent, Gregg Eyestone reminded the public of the ornamental grasses program Saturday, and Commissioner,  Karen McCulloh mentioned the Mental Health Panel meeting on October 8th.