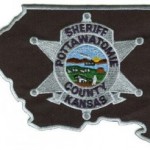 The Pottawatomie County Sheriff's Department is asking for assistance from the public in locating a white Chevy Blazer that left the scene of a residential burglary investigation in the Walnut Grove Area Tuesday afternoon.
The vehicle was last seen a little after 3:30 in the afternoon, travelling at a high rate of speed westbound into Manhattan. The Chevy Blazer is described as being a late '90's or early 2000 model, with temporary tags, and was reportedly driven by a white male.
Sheriff's Department officials indicate they were at the Walnut Grove location earlier in the afternoon investigating the theft of a Husky Air Compressor.
Anyone with information regarding the white Chevy Blazer is asked to contact  the Sheriff's Department at 457-3353, or other local law enforcement.