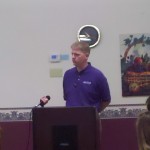 On Friday, Shawn Sullivan, Secretary for the Kansas Department for Aging and Disability Services, came to Manhattan for a dedication ceremony at Justin Hall at K-State.
While here in Manhattan, Sullivan had some free time, so he gave a presentation at the Manhattan Area Senior Center for seniors in the community, along with some Kansas State students.
Sullivan talked about the upcoming changes that seniors can see in programs such as Medicaid and Medicare, along with Social Security.
Sullivan also spoke to the benefits of Senior centers such as the one here in Manhattan on giving not only a hot meal to seniors, but also being a place for activities, both mental and physical.
Following his presentation, Sullivan joined in for a strength training exercise class at the center before heading back to campus for the dedication.