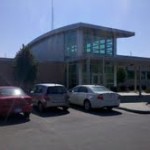 More information has been given in the ongoing investigation that was initiated when a signifficant amount of blood was found in a Manhattan apartment building Sunday morning.
A 39 year old female reported there was a large amount of blood found in the laundry room of an apartment building at 3120 Heritage Lane.
A blood trail was found leading from the room, and canine units were called in, as well as helicopters from the Kansas Highway Patrol. Police conducted an investigation through the day to determine a possible cause. Area hospitals were also contacted and told of the case so they would be on alert.
Finally, late Sunday night, a 34-year-old male arrived at Mercy Regional Health Center with a significant cut inside of his mouth. Police were able to determine that this person was person who was involved in the incident earlier that day. The orgininal incident occured at 2:10 Sunday morning. The patient was involved in an incident at Bobby T's and made his way to the laundry room where he lost conciousness. Upon gainng conciousness, he made his way to his home.
Police are still working on determining the actual cause of his injuries.