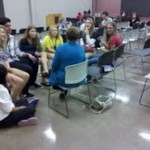 September is National Recovery Month and as a celebration Pawnee Mental Health along with a number of partners joined together to host a balloon launch, along with a speaker.
Sheri is in recovery and she came out on Friday to tell her story and to impart her wisdom on the high school students who were in attendence. 
The high school SADD, Students Against Destructive Decision, had representatives in the audience gathering knowledge to take back to the schools.
Even after the balloon launch and the lunch, some of these students even sat down to talk personally with Sheri about what she had to say.
This is the first year to have the kids and Robbin Cole, Executive Director of Pawnee Mental Health, hopes to have them out next year as it seemed that they really took something from the event.