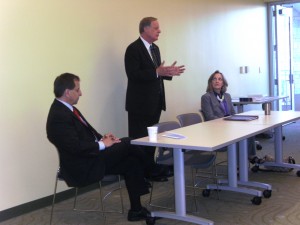 The Kansas Small Business Empowerment Tour stopped in seven Kansas locations in two days.  The first stop on the trip was none other than the Flint Hills Discovery Center here in Manhattan on September 11th.
Three state officials were in attendance to speak to business owners, economic development officials, and the public about the latest adjustments to the state's business climate.  Kansas Commerce Secretary Pat George, Revenue Secretary Nick Jordan, and Labor Secretary Karin Brownlee, took turns speaking about issues such as tax reform changes for 2013, job growth, and the Rural Opportunity Zones program.
Jordan focused much of his time on talking about the tax reform changes enacted by Kansas Legislature earlier this year.  This major development has created quite the controversy among small business owners and raised a number of questions.  One of the main questions Jordan gets asked is whether this change will affect property taxes.  Jordan assured the attendees that property taxes will not be directly affected by the new tax policy, saying "property tax is mainly a local issue".
The other stops on the tour were:  Norton, Hays, Dodge City, Hutchinson, Wichita and Independence.