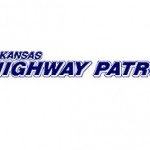 Two people were taken to area hospitals Saturday following an accident on K-99, six miles south of Wamego. The accident occurred shortly before 9:30 Saturday night.
The Kansas Highway patrol reports Jerry Anstey, 40, of Alma was taken to Stormont Vail in Topeka and later to the University of Kansas Hospital and Clayton Fox, 25,  of Richland, Missouri was taken to Mercy Regional Health Center in Manhattan.
According to KHP, a 2004 Chrysler P-T Cruiiser driven by Anstey was northbound on K-99 approaching a curve and travelling at a high rate of speed. Anstey failed to make the curve and the vehicle left the roadway to the east. The P-T Cruiser travelled up an embankment, struck a telephone pole, continued down the embankment and overturned in a ditch facing east. Fox was a passenger in the vehicle.
Anstey was first taken by ambulance to Stormont Vail, then lifeflighted to the University of Kansas Hospital. He is listed in fair condition (Monday). Fox was transported to Mercy by Pottawatomie County EMS but was transferred to Stormont Vail where he was later discharged.