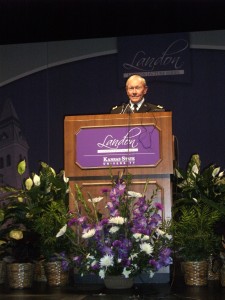 Kansas State University has welcomed a variety of prestigious speakers to the Afred M. Landon Lecture Series on Public Issues for over 40 years.  The 161st Landon Lecture featuring 18th Chairman of the Joint Chiefs of Staff, General Martin Dempsey, was held Monday in McCain Auditiorium on the K-State campus.
Dempsey is the highest-ranking military officer in the U.S. Armed Forces and the principal military adviser to the president, the secretary of defense and the National Security Council.  Originally from New Jersey, Dempsey is a 1974 graduate of the United States Military Academy at West Point and has previously served as the Army's 37th Chief of Staff.
Speaking to a number of military veterans, soldiers, and spouses, Dempsey touched on a number of important issues facing our armed forces today.  The new fiscal budget cuts, changes in service, differences in conflict, and the evolution of communication were some of the most important topics on his list, considering Dempsey has seen a large amount of change over his 37 years of service.
The lecture applied to every military member and/or family member in the audience.  Veterans could relate to his piece on "veterans shaping the nation", active duty soldiers could relate to his talk about change and what it is like to come home after combat, and military spouses could relate to his segment on relationships and military.