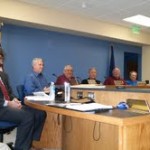 Wamego received several good grades recently. At Tuesday's City Commission meeting, City Manager Merl Page introduced Reese and Novelly Auditor, Melanie Tuttle, who went over the City's 2011 Audit Report. According to Tuttle, there were no material changes to the report, but there were two things that have been brought to the City's attention in the past, with respect to several bank accounts held outside the City offices. Both the Police Department and the Airport Board have small checking accounts that are not being reconciled by the City.
Page countered with the Commission's recent approval of a Petty Cash account authorized for the Police Department, and the Airport Board account is scheduled to be reconciled on a regular basis by City staff.
In other business, Page said the City received the Gold Award from their workman's comp. insurance provider, Kansas Mutual Insurance Trust, which gives them a 5 percent discount on the 2013 renewal premium. This isn't the first Gold Award the City's received due to good safety standards to minimize job injuries.
Page went over the bid recommendations from Bruce McMillan Architects for roof repairs on both the Fire Station and the Columbian Theatre. Danker Roofing turned in the low bid of over $104,000  for both roofs.
In other business, the Commission approved the Final Plat of Stonington Estates, Unit 2. This is a subdivision in Pottawatomie County, but located within the extra territorial area of the City of Wamego. This addition is located off of 6th Street and Salzer Road, which is south of Stewart Funeral Home. The Planning Commission approved the Plat with the one variance of not allowing driveway access off of Salzer Road. Developer Dirk Riniker said access will be the entrance to the development off of 6th Street. He also said he wasn't planning to develop the area at this time, but he's been getting a lot of people calling wanting to purchase lots.
The Emergency Solutions Grant has been awarded for Wamego. Page announced the Kansas Housing Resource Corporation awarded over $90000  to fund the Emergency Solutions Grant for Community Health Ministry, with the City of Wamego acting as the sponsor. Page said Community Health Ministry will use the funds for the same services as before, which is to help prevent homelessness, and serves both Pottawatomie and Wabaunsee Counties.
In other business, Page said a review of the City's Section 1-25 Cafeteria Plan showed there were two areas that required additional administration; unreimbursed medical expenses and dependent care. He said contracting out the administration of these was in the best interest of the City, and it can be done at a cost of $45  per month. The Commission approved the plan.