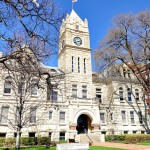 A Manhattan man entered a plea of no contest Tuesday in Riley County district court to attempted murder in the second degree.
 Tyrell Brown, 27,  entered the plea and then was found guilty in connection with an incident that occurred January 15th of this year. Brown reportedly got into a struggle that day with a handgun in his possession, and during the struggle with two other people,  Marcus Cooper, 52, was shot in the right arm, with the bullet coming to rest in his torso. Cooper later recovered. 
The case was somewhat unusual as Riley county police indicated earlier in the day Cooper had given Brown a ride to church, which was described as a normal routine. Brown reportedly was demonstrating bizarre behavior at church and was asked to leave. The incident occurred on the drive back to Brown's home, near the intersection of North Manhattan Avenue and Flint Hills Place.
Brown's sentencing is set for December seventh.